Have you been wondering how to start a bullet journal? Maybe you've seen all the amazing bullet journals floating around on Instagram, or some of the hacks that are on Pinterest, or maybe someone you know has told you how much their bullet journal has helped them organize their life. But somehow, you've seen it and it's super intriguing to you.
And now you want to start your own. There's just one little problem. You don't know where to even get started with a bullet journal. It feels overwhelming, and maybe a little like you're an outsider to this whole world of #bujo. Maybe those Instagram accounts have made you think you need to take about a dozen calligraphy classes or head back to an art school to learn to draw. I've been there!
But the thing is, you don't need all of that to start. In fact, my handwriting is not that great and I'm an art school dropout, but I still manage to use my bullet journal to keep me organized and have a little fun doodling and designing the margins while I'm at it.
So, don't worry. You've got this! Let's get into the details…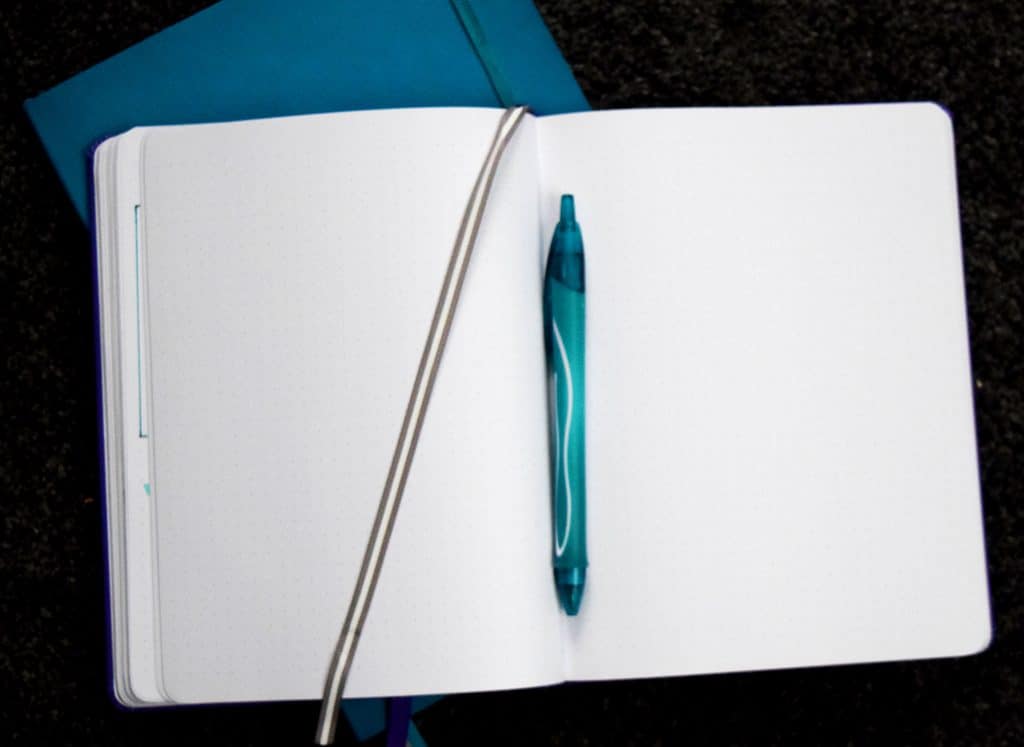 Transparency Note: This post contains affiliate links. That means if you choose to purchase through my links I will make a small commission through no extra charge to you. You can read more on the privacy policy and disclosure.
What Is a Bullet Journal?
A bullet journal is a system that was developed by Ryder Carroll to help with project management and planning. If you want to know about the history behind it, there's a great video on YouTube where he gives an overview of the system.
Since then, the bullet journal phenomenon has taken on a life of its own with people using it in many many different ways. And while the original system was very minimalist in its design, people have taken lots of creative liberties and made it their own with more elaborate layouts and designs.
That's the beauty of a bullet journal and the blank notebook you use to make one – you can make it your own anyway you please!
Supplies to Start Your Bullet Journal
The only supplies you really need to start a bullet journal are a notebook and a pen or a pencil. You don't even necessarily need a dotted notebook or any kind of fancy pens. So if supplies are what's stopping you from starting to use a bullet journal to organize your life, I'd suggest just starting with what you've got!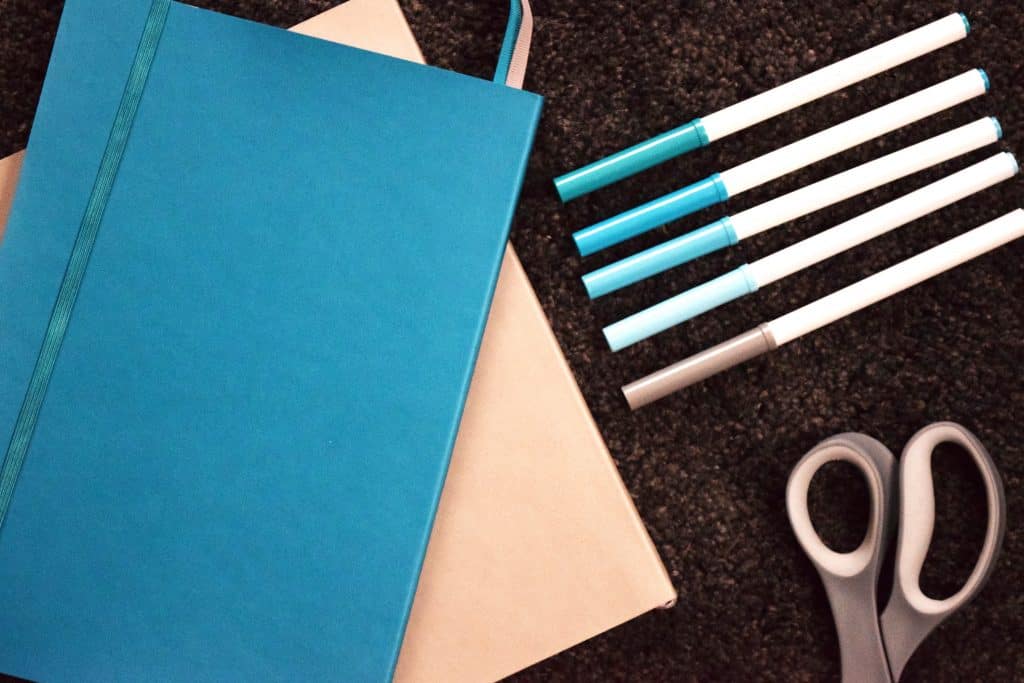 For me, part of what attracted me to bullet journaling was the unique aspect of the dotted notebook and all the creative supplies that were out there. That said, I kept it pretty simple when I was just starting out.
My supplies were:
A dotted notebook – you can read more about where to buy a bullet journal and the options out there.
Bic Atlantis Pens – these have a relatively fine line and the ink writes smoothly.

A ruler

Crayola Supertips Markers – Yep. Crayola. Simple and cheap!
A couple of Tombows – I couldn't resist getting the Tombows since everyone was raving about them, and they do certainly make hand-lettering easier.
That's it! That's all I started with. From there I added to my collection as I went, picking up more markers, a watercolor pen, washi tape, and more. Picking out supplies is one of my favorite parts! (And if you get started and find some favorites – please pass them my way! I'm always on the lookout for something new.)
If you don't want to wait on your notebook and would rather get started right now (I mean the possibilities are pretty exciting!) then I've got you covered with some free printable dot grid paper. Just scroll down to the bottom of this post!
Bullet Journal Key
Your bullet journaling key is a lot like a map key. It's a series of symbols that are shorthand for notes you'll be making throughout your journal. The three easiest to start out with are a task key, completed key and a migration key. You'll have a symbol to denote a task, another to note when the task has been completed, and another to note when you haven't completed the task and are migrating it forward to another day or week.
Make a list of those symbols and their meaning at the beginning of your bullet journal. This is your key.
You can certainly go beyond those basic keys and customize it to what fits your life (beauty of a bullet journal!). So maybe you need to note which tasks are yours and which are something you want your spouse's help with. Maybe you key tasks that are part of a long term project you're working on like a house renovation.
You can get as creative as you like. As a beginner, I recommend starting out with something relatively simple. As you get into the rhythm of bullet journaling you can start incorporating more and adding them to your key.
(Want a more in depth guide on how to make the key work for you? Read this guide to making a bullet journal key.)
Bullet Journal Index
Your bullet journal index is exactly what it sounds like. It's the beginning index of your bullet journal that guides you to where you've placed certain things in your bullet journal. So maybe pages 3-10 are collections, and pages 11-15 are your spread for the month of August, and pages 16 and 17 are habit trackers, and page 18 is a gratitude log.
By writing down the locations of all these different places in your bullet journal at the front, you can quickly skim the page to see where you need to turn to find that information.
This of course means that you'll need to number your pages if you don't have a bullet journal that comes pre-numbered for you.
There are other hacks to finding the location of places in your index that you might want to incorporate later, but this is a great way to get started.
Want more help setting up your bullet journal index? Check out this guide on how to set up a bullet journal index that works for you!
Bullet Journal FutureLog
So one of the things I see a lot of people worried about when they're trying to figure out how to start a bullet journal and they've come from another planning system is how they will plan the months and weeks ahead when none of that is filled out yet. People worry that they have to set up the entire year in advance before they can begin using their journal, and luckily that's not true.
The future log is where you put all the things that are coming up through the months and weeks ahead that you need to remember and keep track of. You can list everything out in a row, or create boxes to denote months and write down the events and the tasks inside of them. Then when you're prepping your spread for that month, you'll go to your future log and grab any information you've noted there. You add it to your month's spread, and ta da! All set.
Some people get creative with their future logs and even have more than one. Having a separate one for birthdays, for example, is a popular addition. If you want more tips, hacks and information – check out this bullet journal future log guide.
Bullet Journal Collections
Collections are places to keep lists and records of things you want to remember. It can be everything from what books you've read, to what movies you want to watch, to your regular tried-and-true grocery list. Everything from functional to sentimental can go in your bullet journal collections. Here's a list of bullet journal collections ideas to get you started.
Some people like to leave several pages at the beginning of their journal for this purpose, but you can also spread them out throughout your journal as you think of one you'd like to include. Again, you've got your index set up so if you need to find it again, you'll just flip back to your index and locate the page number.
Want even more tips on setting it up? Check out this guide to bullet journal collections.
Spreads and Layouts
You'll hear a lot of talk in the bullet journaling community about "spreads or layouts". This is just a generic term for the set up and structure of the planning portions of your bullet journal. These can be divided in a bunch of different ways but most commonly through monthly, weekly and daily spreads.
Which one you choose is entirely up to you and depends on your planning needs. Many people who bullet journal use a few of these spreads in combination. Here's a quick overview of the positives and negatives of each of them:
Monthly Spreads
Monthly spreads can be set up in typical calendar fashion with the usual 30 or so odd boxes or they can be a running list down the side of your page. These spreads are great for giving you an overview of everything at a glance. They're basically a place where you can quickly spot the busiest parts of your month and help you plan ahead.
The downside is they typically don't have a lot of room for the details and aren't great for the tracking of day-to-day tasks.
Weekly Spreads
Weekly bullet journal spreads are kind of the sweet spot in the middle between monthly and daily spreads. They allow you to add a lot more detail, have a more focused look on your week and give you the opportunity keep better track of projects or tasks day over day.
The downsides are kind of obvious – you don't have the broad overview of the monthly, and for really busy days you may not be able to fit it all in in the space available to you.
Daily Spreads
If you're a person who likes to timeblock and list everything out that you need to do in a day, or maybe you're just a crazy busy person with lots of different priorities pulling you in different directions – daily bullet journal spreads may be for you. They give you lots of room to write and structure the information you need to keep track of on any given day. They also have the added bonus room for things like gratitude logs, journaling or even adding a photo or two.
The downside of daily layouts is that eat up a lot of room in your journal. If you use a page for each day, you're going to need several notebooks to get you through a year.
You also won't have the broader overview that weekly and monthly spreads give you.
Habit Trackers
Bullet journal habit trackers are one of my favorite things about bullet journaling, because they are a great way to keep you accountable and remind you of things. It's especially great for the kinds of things that get lost in the hustle and bustle of your day like flossing. (I know flossing is boring and we all forget, but it's a good habit to have!)
They have benefited me most by keeping me accountable to things I might otherwise not prioritize like getting in steps, drinking water, and eating less sugar. When I have to skip a box and leave it empty that day because I didn't meet my mini-goal, then I know the next day I'll be more motivated to get it done.
You can start here with a list of habit trackers that can get you thinking about which ones you might need for your bullet journal.
Beyond Starting the Bullet Journal
So there you go. Now you know how to start a bullet journal! There are dozens more ways you can customize your bullet journal, with things like gratitude logs, art journal pages, mood mandalas, budget trackers and even meal planning! Once you get set up and get into the groove of things you'll start figuring out what works best for you.
My number one tip: Experiment!
Don't think you have to be boxed in because a certain way is the "official" way or how everyone else is doing it. The main purpose of a bullet journal is that it is customizable and that you can make it fit your life rather than the other way around. So do that!
Have other questions about how to start a bullet journal? Let me know in the comments below or feel free to contact me on Instagram or Facebook!